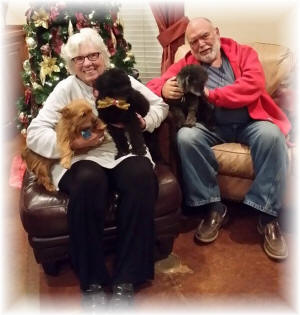 We would love to match you with a great rescue dog. Our goal is to get dogs out of kill shelters, off chains, out of pens, and into responsible, loving, permanent homes.

Finding the right dog for you.
You can get to know our dogs on line or come to one of our events. You can also get in touch with our fosters to get advice as to how a dog you are interested in will be compatible with you and your situation. After researching the available dogs and/or waiting on a soon to be available dog, there is a process we follow so the placement goes smoothly for both you and the dog.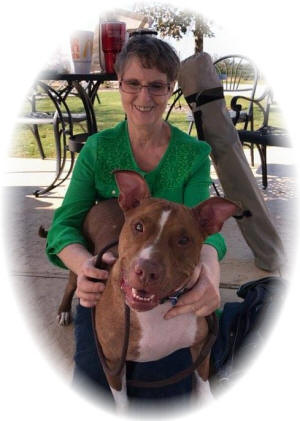 As a responsible Rescue Chewy's Hope believes all precautions should be taken so the cycle of overpopulation and neglect does not continue.

Dogs in the custody of Chewy's Hope Dog Rescue are maintained in quarantine period to provide the best possible health care to protect them and insure the adopter receives a healthy happy dog. We want to make sure both the dog and the adopter can begin their journey together in the best way so they will have a long and happy life together.

At the time of adoption, dogs/puppies will have been neutered. They will have received basic vaccination protocol for diseases. They will receive rabies vaccinations as mandated by the State of Texas and heart worm free and on prevention.. And, they will be microchipped for their protection.
They have been fostered in homes where they receive personal attention and evaluation of their temperaments. If you have any questions you can contact us by Facebook or e-mail. We hope you find your perfect companion in our list of Adoptable and Soon To Be Available pages.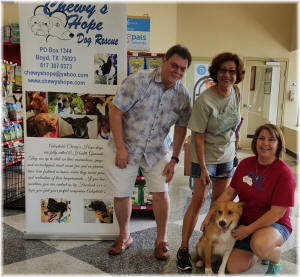 Adopter Requirements
You must be 21 years of age or older
You must have the consent of all adults in the household
Your pets must be current with vaccinations
Your pet must be on heartworm prevention
The Adoption Process
Please Note: We are committed to matching the right dog to the right family so all will have many happy years together. Our adoption process includes :
1. Completion of an ADOPTION APPLICATION
2. Veterinary and personal references checked.
3. Home visit
4. Adoption donation and Contract.

Post-adoption instructions
We will contact you a month after the adoption to ensure your newly adopted pet is working out in your new home. Please respond to our inquiries within 24 hours.
If you need any help, please email us at chewyshope@yahoo.com
We strongly encourage training for all dogs and owners.


ADOPTION APPLICATION
By submitting this application you grant permission for a representative of Chewy's Hope to investigate and confirm the information that you provide.
CHEWY'S HOPE CONTRACT

This application may be filled in on line. . We recommend you save a copy for your files. It can either be electronically submitted attached to an email to chewyshope@yahoo.com, saved to your computer and put in a Facebook message,.
or mailed to:
Chewy's Hope
PO Box 1344
Boyd, TX 76023